Client: Tiefbauamt Karlsruhe, 2022
The virtual market square application already installed in Karlsruhe in 2019 was extended. Accompanying the upcoming construction phases, the first construction phase from Ritterstrasse to Adlerstrasse was presented virtually in the Karlsruhe "Schaufenster" tourist information centre.
The "walk-through", interactive application was furnished with additional information and presents the most important elements of planning.
The core of the information environment is the real-time application that provides the two-dimensional planning data as an interactive 3D model. Accompanying information complements the installation in the form of infographics and additional information within the virtual environment.
The control is done with the console developed by mach:idee, which was already used for the virtual marketplace.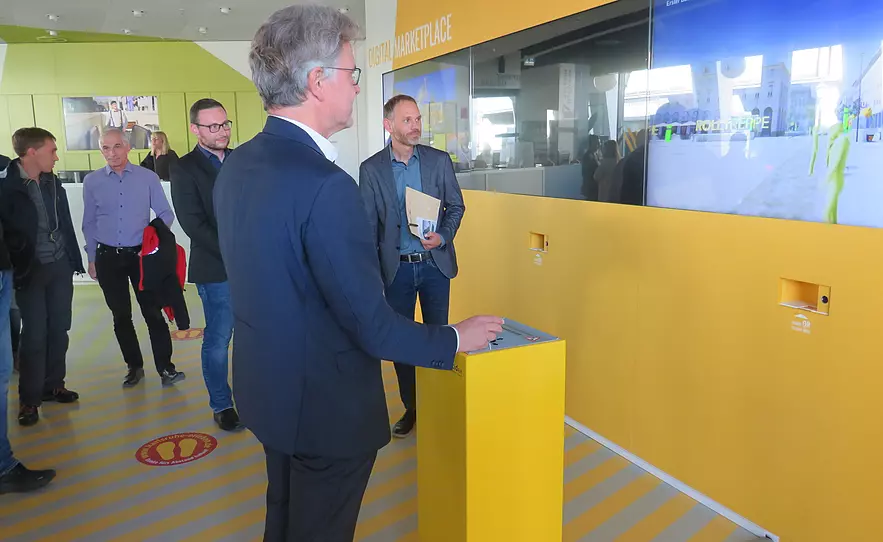 Mayor Dr. Frank Mentrup at the opening of the application on the premises of Karlsruhe Tourismus GmbH (KTG)

In close cooperation with the Liegenschaftsamt Karlsruhe, the existing 3D city model was prepared for the requirements of real-time visualization and extended to include the planning measures for the Kaiserstrasse, which was to be redesigned.
Up-to-date information on the planned measure is provided by the Tiefbauamt (Civil Engineering Office) on the website set up specifically for this purpose::
https://www.karlsruhe.de/dossier/kaiserstrasse
The application can be visited during the entire construction phase on the premises of Karlsruhe Tourismus GmbH on Marktplatz.
rm