Client: Tiefbauamt Karlsruhe, 2019
In order to present the redesign plans for the market square of the city of Karlsruhe to the citizens in the most accessible way possible, mach:idee was commissioned to create a real-time visualisation of the planning measures. The aim was to generate a "walk-through" interactive application with additional information that would vividly convey the most important elements of planning.
The core of the information environment is a walk-through real-time application that provides the two-dimensional planning data as an interactive 3D model. Accompanying information complements the installation in the form of infographics and additional information within the virtual environment.
The control system is based on a concept developed by mach:idee, which has been used successfully for years in various fields of application and works very well with different game engines.
The m:i-box, an in-house development by mach:idee, was built by Leyer Design Rastatt. www.leyer-design.de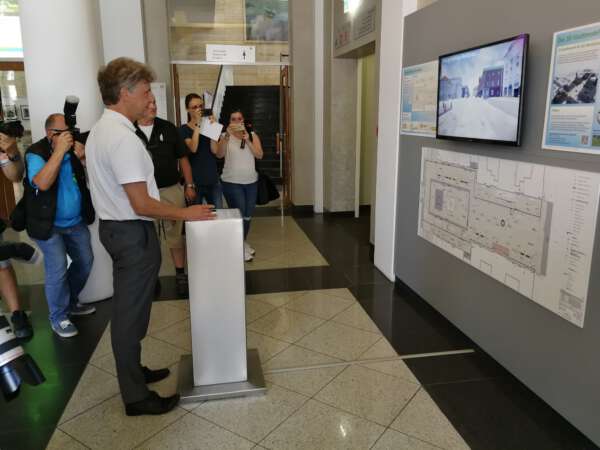 Mayor Dr Frank Mentrup at the opening of the application in Karlsruhe City Hall
For the planning of the "combined solution" (Kombilösung) and the associated redesign of the affected streets and squares, a very detailed photorealistic building model was created by the Liegenschaftamt Karlsruhe (city real estate office). In close cooperation with the city real estate office (Liegenschaftsamt), the existing city model was prepared for the requirements of real-time visualisation and expanded to include the planning measures of the new market square to be designed.
The complete comprehensive model was brought to life with the help of the game engine UnReal and made accessible to the public via a custom controller installation in the City Hall of Karlsruhe.
rm